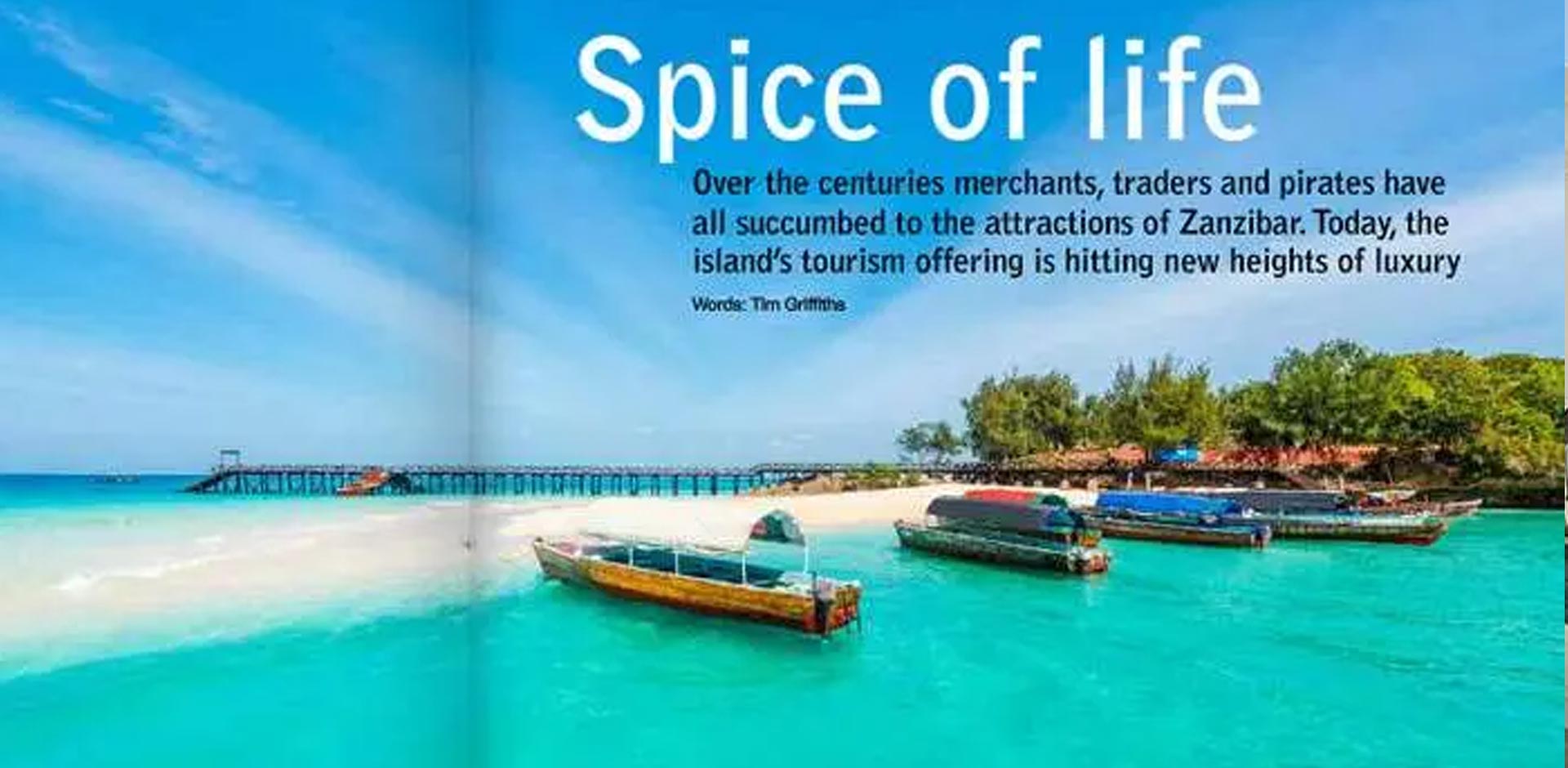 The Zanzibar Collection is proud to be featured in Harrods Aviation's Halcyon Magazine; please find the original feature here.

Over the centuries merchants, traders and pirates have all succumbed to the attractions of Zanzibar. Today, the island's tourism offering is hitting new heights of luxury. There's an authenticity to some places. Despite time's inexorable march and the creeping pervasiveness of the 'modern', some things just ring true. So it is with Zanzibar, a tiny tropical archipelago in the Indian Ocean off the east coast of Africa. An eclectic mixture of heritages provides Zanzibar with a unique identity. Archeological remains suggest there has been human habitation here for at least 20,000 years with classical texts from the 1st century AD mentioning the main island. Down the centuries Persian, Indian, European, Arab and Chinese traders have made use of the islands' location and their capital's sheltered harbour. This has given the underlying Swahili culture a more global, exotic feel. The archipelago is also known as the African spice islands due the production of cloves, nutmeg and black pepper. From Vasco da Gama in 1498, through the Sultanate of Oman 200 years later and on into a British protectorate in the late 19th century, Zanzibar was governed by outside powers. Britain's main interest in the island was due to the political impetus to abolish the slave trade. For my visit to this exotic corner of Africa I am staying at the luxurious Baraza Resort and Spa. The word baraza means 'bench' in the local dialect and refers to focal points in community life. The resort is part of the family-owned Zanzibar Collection that comprises four hideaways, all with different identities. This particular property is an hour's drive from Zanzibar International, an airport whose name is far grander than the sight that greets you on landing. Having said that, a new terminal is under construction. Baraza has just 30 one- and two-bedroom Arabicstyle villas, all with private plunge pools. Eight of the accommodations, including the Presidential villa that has seen various celebrity guests in residence, look directly onto the tranquil Bwejuu-Paje beach from their secluded verandas. These villas feature exquisite fittings and a powerful air-conditioning system that fights the heat valiantly. The emperor-sized bed provided the most comfortable night's sleep I can remember. There are three dining options to choose from, all with excellent standards of cuisine. The local fusion of cultures has given birth to a wide range of dishes that incorporate local spices and flavours. Being an island means many seafood specialities but other options are abundant also. While Zanzibar is a Muslim country, plenty of alcoholic cocktail choices are available, usually tailored to the locale. I would personally recommend a 'Zanzipolitan', the watermelon juice providing much-needed refreshment in the Dhahabu Lounge before an evening repast of mouthtingling delight. However, if I could find but one negative in all this comfort and first-class service it would be that there appears to be a dearth of plug sockets in the villas – the accoutrements of the 21st-century traveller dictate ready-at-hand power sources. Personally, I would have liked a screened-window option for natural air occasionally rather than the ubiquitous air conditioning. But it's a only small grumble. Baraza is a five-star resort (and was chosen as one of the World's 60 Best New Hotels on the Condé Nast Hotlist of 2012), but just down the coast lies an engaging opportunity for extravagance. Zawadi Hotel is a collection of nine villas (soon to be 12 – all with plunge pools) that presents itself perfectly as a private, intimate getaway retreat perched atop a cliff with its own small, private beach. Where Baraza is all about history and heritage, Zawadi has been conceived with an entirely different mindset: soft greys and blues underline its place in the modern world. It's easy to imagine the exclusive whole-retreat rental option being taken up by a group of close friends and relations. From €5,760 (£5,100) per night a private, luxurious, all-inclusive break might work a treat. A further step up on the privacy-and-luxury scale, the Palms (the third of the four resorts) is again distinctive within the Zanzibar Collection. Six spacious private villas, designed in colonial style with dark woods and palm frond roofs, all have over 130m sq of living space with two en-suite bedrooms and walk-in dressing rooms. Laid out around a central pool and a large bar/restaurant, the tranquillity to be found here is only disturbed by the breaking waves as the tide approaches only 50m away. If your Learjet only has limited capacity, then an all-inclusive stay, encompassing the six villas at the Palms, can be all yours from €4,050 (£3,570) per night. It's not just sun-soaked lounging by the pool, though. Baraza has the Frangipani Spa with its cornucopia of options to soothe and sate the ravages of age and the stresses of 'real' life.

I opted for a deep tissue massage from a pocket rocket from Bali named Rusti who had cast-iron fingers so strong she could have squeezed milk from coconuts with her bare hands.

After her effective ministrations I floated back to my villa a good three inches taller. Access to the Frangipani Spa is included within the rates for both Palms and Zawadi and the ginger tea served up after your treatment is simply divine. The authenticity oozes from Zanzibar, even during the monsoon season in which I visited. From teeming downpours springs verdant lusciousness that serves to prove the integrity of the natural world. It all just leaves you with a soul-sating relaxation that will live with you long after you fly away. Zanzibar is accessible to private jets but, having raised this with Jaume Vilardell, the group general manager of the Zanzibar Collection, he confirmed that travel arrangements would have to be negotiated directly with the Zanzibar Airports Authority. The transfer from the airport to the resort, meanwhile, can be organised directly with the hotel. This article by Tim Griffiths was published in Halcyon Magazine, issue 2018-1 and is available online here.