When Paradise Gives Back How One Family Transformed The Island Of Zanzibar

Tales of Zanzibar's white sand beaches, crystal blue waters, spice trade, and an ancient stone town have enchanted many. Marked by Swahili, Portuguese, Omani, and British influences the island is one of the few places in the world where so many cultures peacefully coexist. There is also a fascinating family that had sought out this beautiful land to create a truly unique development that honored these various cultures and traditions while also giving back. Many even credit them with why the tourism industry in Zanzibar is doing so well.

Well before journalists or travel writers ventured to the beaches of Zanzibar, the Raguž family decided to become the first real investors in sustainable tourism here. It wasn't long before the Raguž family's properties became legendary. Armed with degrees from the Cornell School of Hotel Management, they created a privately owned collection of beautiful boutique hotels which remain family-owned and run, with great attention to detail, and excellent service. Unlike many foreign business owners, they decided to build and operate their hotels with a local workforce, and they still seek to grow the local economy in every way possible.

The architecture in their properties is a celebration of the local design, with beautiful arabesques and filigree reflecting the skills of Zanzibari craftsmen. But the Zanzibar Collection isn't only about viewing the islands' culture; it's about experiencing, embracing, and renewing it. Guests have the opportunity to take part in a vast array of local activities, from learning to speak Swahili, practicing palm weaving, visiting local clinics and schools supported by the Zanzibar Collection's charity, and learning to cook signature local dishes. The Collection also offers East Africa's only National Geographic-affiliated PADI 5 star Dive Centre.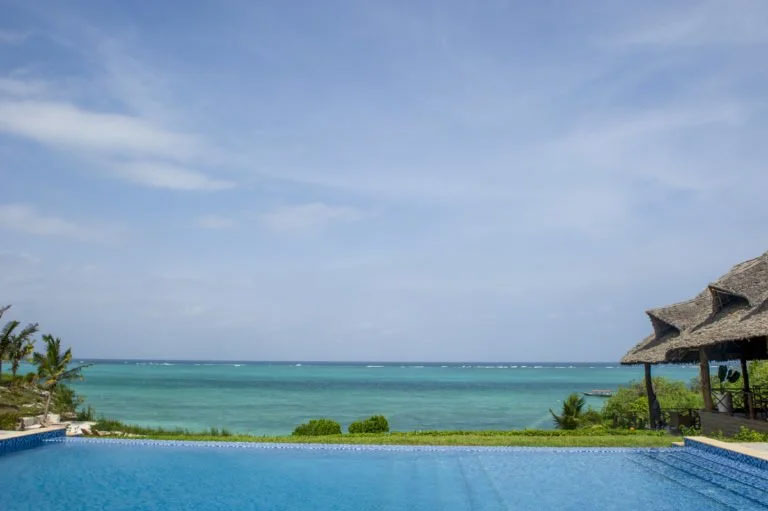 The outdoor pool at Zawadi.

One of our favorite properties is their newest – the tranquil & stunning Zawadi Hotel, which offers the best ocean views on the Island. Zawadi sits atop a cliff with breathtaking views of the Indian Ocean, with a pristine, sandy white beach forming where the cliff recedes. A short, stone-hewn staircase provides near-private access to empty beaches, from which guests can enjoy the stunning views and also swim in the ocean and snorkel directly in front of the hotel, even at low tide – a feature unique to Zawadi.

The Zanzibar Collection includes three other properties. Located just a few kilometers down the beach from Zawadi is the boutique resort Baraza Resort & Spa, recently voted as the No.1 Hotel in Africa and one of the Top 20 Luxury Hotels in the World on TripAdvisor. Baraza is a magical place you have to see to believe. Each of the property's 30 villas are truly luxurious, with sprawling courtyards and plunge pools. But Baraza also evokes the heritage of Zanzibar dating back to the era of the Sultans, featuring beautiful brass lanterns, antiques and carved stucco throughout. Those looking for a romantic getaway can check out nearby Breezes, an award-winning luxury hotel known for its beautiful carvings, rich fabrics, and tranquil atmosphere. For something even more intimate, the Palms offers an ultra-exclusive small retreat, with just six ocean-view villas and unparalleled personalized service. The Palms was also recently voted as one of the World's most Romantic Hotels by Travel & Leisure.

The Raguž family also took great pains to build their hotels in a responsible, sustainable way: with villas run on solar-powered heaters, and they use a state-of-the-art waste disposal and recycling system. An environmentally-responsible desalination plant is used, so that all water is produced and processed locally, not taken from the village source. The Collection also runs an in-house produce garden, promoting local agriculture and avoiding the need to import expensive foreign food. Where possible, they prioritize purchasing materials or supplies from the local village and purchase food from local fisherman, who sell them their catch of the day as part of their broader effort to support the local community.

The Collection made key decisions to support the local economy, too. Tourism makes up one-fifth of Zanzibar's economy, and the Raguž family works to support the industry in every way possible. Nearly 90 percent of staff are graduates of the local hotel school, or people who were part of the original construction team and have undergone intensive training programs, English classes, and other professional skills courses. Many employees have been a part of The Zanzibar Collection for twenty years.

At the same time, their charity "The Zanzibar Collection for Bwejuu" is dedicated to developing the local villages. So far, the charity has assisted the school with guests also contributing with gifts and donations. The charity is also focusing on building relationships between the local community and staff. Every year, staff and management organize a cleaning exercise where all go to the village and personally clean up trash, and teach local families about responsible waste disposal. Perhaps most inspiring is the work they have done to help fund and construct the brand-new Maternity Clinic in Bwejuu and getting foreign charity group from Sweden to build the neo-natal clinic. Prior to its opening, Zanzibar only had just a handful of medical clinics, and no facilities dedicated solely to ensuring pregnant mothers had the prenatal, birth, and postnatal care they need. Babies and children are also vaccinated and monitored at the clinic.

Few places offer so much or make you feel as good to support. To learn more about these properties please visit: www.thezanzibarcollection.com

This article was shared by MSNBC Editor's Choice on 1:51PM 11/12/2018.